News

Rhythms of Polesie - 2018
Oksana Zorina
May 28th, 2018
Our two-day Rhythms of Polesie 2018 tournament is over. Our dancers, coaches, and parents have been preparing for this all year, which is showing great results. Well done everyone!!!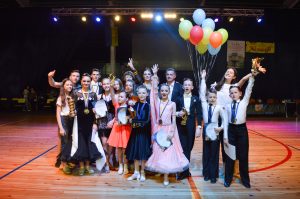 Whatever our competitors say, our dancers deserved their awards, as they worked every day in the dance hall, worked with the best and strongest coaches in Ukraine and Europe. We have the most active support group and the best coaches.
Thank you.
Our tournament was visited by a retro dance group of people of advanced age. They didn't come empty-handed and made a dancing gift.
It's a good omen to go out in the park on your birthday, which Alexandra Rubanenko did. And also to get the first place as a gift. We all dance family congratulate you with your birthday and wish you further successes and victories!!!
Ivan Marchenko, also celebrated his birthday in the dance circle. He and his beautiful partner made their debut in the Youth Rising stars category and won second place, for which we congratulate them.